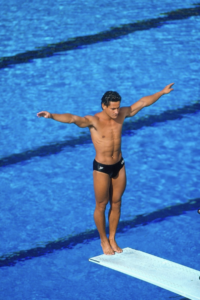 This is a pretty easy answer right? Of course, it's Greg Louganis. Greg Louganis won 4 gold medals and a silver, and were it not for an Olympic boycott in 1980, he most likely would have had six golds. Not only is this an incredible achievement but it happened when there were half as many diving events. With the addition of platform and springboard synchronized diving, Olympic divers now have twice the amount of events to win medals. And the Chinese springboard and platform divers have cashed in. Big time.
Another Candidate for the greatest of all time is Dmitry Sautin. The Iron Man of Diving. He has more Olympic medals than any other diver in history. He has 2 gold, 2 silver and 4 bronze. We will never see another diver like Greg Louganis. Most divers will rarely compete on both springboard and platform. It is just too difficult and too risky. Not risky in the sense of injury, but in the sense they will not be able to win against the specialists in just one event.
David Boudia, is one of the US's most decorated divers and the US diver to end the 20 year drought of Olympic medals for the US on Men's Platform. An almost superhuman feat against the dominant Chinese.
Tom Daley is one of te popular divers of all time. Not quite a candidate for the Greatest of all time right now, but there is still a lot of time ahead of Tom. He is always in the running. Right now he holds 2 Olympic bronze medals.
Finally, a word on the Chinese. They have dominated the sport over the past 20 years. The depth of the Chinese International team is staggering. They have mastered the training system and it is unlikely any country will catch them any time soon. But the system is the star, not one individual diver. Even though Chen Aisen, the defending Olympic champion is nearly flawless, can he hold off the young and extraordinary talent from his own country? Will Cao Yuan be able to leave Jack Laugher with the silver again in the Olympic 3m diving event in Japan 2021?
Conclusion: Greg Louganis will hold on to the title of GOAT for many more decades. 4 golds and 1 silver. He may go down in competitive diving history as the single greatest competitive diver ever.