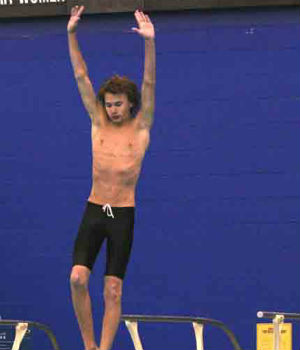 You know what this looks like. A diver has been doing a dive successfully for two weeks and then, all of a sudden they are no longer able to get the dive off of the board. They balk once, then twice, then they are jumping in the water with their hands over their face, frustrated and upset. This often happens with beginner divers, but many times it appears with very talented and accomplished divers.
Sometimes it is obvious. They hit their hand on the board on a reverse dive or hit their toes on a back 1 1/2. They do not want to repeat the same mistake, and will do just about anything to avoid the dive. Other times it is a mystery. Everything has been going well with the dive, they are performing at a high level and then, Bam! That great dive they were doing disappears and it is a full-on x-files case to figure out what went wrong and how to get it back.
When divers who have performed a dive hundreds of times suddenly become "blocked" and are unable to attempt to dive it is mysterious and frightening for the diver. Divers have so many things they need to think of during a dive, when something breaks down it is hard to pinpoint where the problem is. Emotionally, the diver gets torn up. Sadness and fear turn to frustration and it makes everything worse. Inevitably, a meet is coming up soon the fear and frustration are only aggrevated.
So how does a diver lose a dive? It seems to evaporate out of thin air. There are many reasons why a diver may lose a dive, but about 90% of the time the diver was not taught the complete sequence of how the dive should be performed. There are small gaps in their understanding of the dive. These gaps get in the way of their performance. When actions that have become automatic do not work correctly the whole dive falls apart. These gaps grow larger and larger and the diver becomes unable to perform the dive.
As an NCAA coach and coach for a USA DIVING Nationally ranked team many divers and parents will come to me for a "cure". I see this far too often. Unfortunately there is no quick fix for dives that have been lost.
When I go through this with new coaches and divers I explain it like this: A dive is, in many respects, just like a road trip. If you get on the road and you know that a bridge is going to be out somewhere along that road – you are not going to go any further. It doesn't matter what anyone tells you – there is a bridge out somewhere up there and if you keep on driving you are going to fall off and die. In order for you to get back in that car and start start driving you have to know that that bridge is in good shape. So the coach and diver have to work together to make sure that you are repairing that broken bridge. Once the diver knows that the bridge is in good shape then they are going to attempt that dive again… and most likely they will be successful.
Coaches and divers should work together to go through each part of the dive and analyze where the gap in understanding is (the bridge). Then train that specific portion of the dive. It needs to be drilled outside of the pool. This is best accomplished in a dryland atmosphere on a dry board or trampoline.
Once the dive has been broken down and trained for the specific area that is giving the diver problems, then you can move the dive into the pool and attempt it again. Usually this should be done in a very safe environment with a relaxed timeframe. Any type of equipment you can get your hands on is helpful. A wetsuit, bubbles, overhead spotting belt, or everything at once.
Most importantly, the diver, coach and parents should remember that when a diver loses a dive, it is usually a long process to recover it. It could be weeks or even months to be able to perform the dive again. Adjustments need to be made to the competition list if a meet is looming on the horizon. The good news is that with hard work and good coaching a dive can always be restored to a divers list.
When teaching new divers or even very experienced divers, coaches should always remember that there are no shortcuts. Every piece of the puzzle needs to be aligned correctly before you move to new dives. If you try to cut corners then dives will magically disappear.
Always remember that the coaches at Upstate Diving are always available as sounding boards or mentors for diving coaches. Feel free to stop in or call anytime to get any help you may need.